I'm happy to 'unveil' my latest release called "YAMOZHA". This EP is more or less 'black metal style dark ambient' but I hate having to categorize, so I'm calling it "dungeon trash ambient". Humour always contains a bit of truth. But a bit of background.
By the time Cleopatra Records released "DARKNESS CONSUMED" in October of 2019, I lost my hearing in the left ear completely. It's called SSHL and it is total hearing loss, not just "less hearing"…it's all gone. The right ear fits the other category –"less hearing". So it's more or less a huge challenge to continue on with recording going forward. Three of the four tracks on this EP were already recorded a couple of years ago but I will return to that momentarily.
So, in October, Benny Cardenas of Cleopatra Records was super supportive. I have to say, that I am blessed to be a part of Cleopatra Records but most of that is due to the benevolent nature of Benny. Instead of saying, "ok, well…good luck"…he said maybe there are old demos or something that can be released etc. So, in many ways this release is an experiment inspired by the support of Benny.
There are other people who have been absolutely amazing and supportive as well: my mom and dad, and my siblings—and many friends— and also, Russell Bell, Johnny Kelly, William Westwater, Martin Popoff, Zardonic, Tim Muddiman, Marcel Lecker, Rich Mills, Ade Fenton, Shaun Brooks, CRIX Rayner, and in recent weeks, Gary Numan who took time out of his crazy schedule to write words of encouragement. In many ways, it was Benny and Gary (sounds like a movie title) who kind of were the ones to say more or less, "try something"…and here we are.
I may attempt to do something more in the future but after all is said and done, it's certainly not business as usual. If I do continue, it will be more in the style of this EP, more 'ambient' but that remains to be seen. You see, it's so important to FEEL the music and be aware of all of the textures of sound and my music has been (usually) 'busy' and full of 'layers and textures' even to a fault perhaps. Doing this EP really revealed how, because of the extreme hearing loss, I am unable to "feel" the music and that is deeply disappointing.
As I said, three of the tracks (the first three) were already recorded and released as part of an experimental album that I released as "Gnostic Gorilla" called "Luna Melancholia" and it was released on LGP-ONE. (My personal label) This EP is also going to be released on LGP-ONE for now. I didn't want to burden Cleopatra Records with something that may go nowhere. (Luna Melancholia later became the project name of a dark ambient pursuit that I embarked on with Marcel Lecker of "Battlemoose" and we released "Das Probleme des Bösen" Marcel did the music and I merely LUNA MELANCHOLIA wrote lyrics and recorded vocals)
So, here is "YAMOZHA". YAMOZHA-Bandcamp
(available on iTunes/Spotify/YouTube etc. by weekend)
This EP is inspired somewhat by the Dogrib Nation story of "Yamozha" and also other stories from their tradition. "Lost Daughter" is about the sad reality of many young First Nations women who have gone 'missing' in Northern/Western Canada and the effort to 'find them' hasn't always been…fervent. A sad chapter in our history. The last song, "Dance of the Wolverine" is the only track that I started from 'scratch'. The three other tracks were already recorded a few years ago, but without vocals. "Dance of the Wolverine" is sort of a fusion of Black Metal Ambient with a bit of trance. (again, I call it Dungeon Trash Ambient) This track is the real 'test' for me as far as capability goes. I will wait and see what people with "good ears" have to say about it. I honestly don't know.
There is an alternative version to this EP as well. The difference is the vocals are more atmospheric and 'ambient' and in the background…at least more so than the original. It's available now on Bandcamp and will also be available soon, like the original, on iTunes/Spotify etc. YAMOZHA II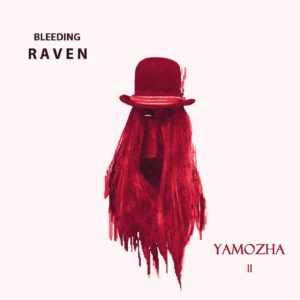 Just a note regarding the reference to First Nations: I do NOT claim to know all there is to know about their culture. It would be severely lacking in respect to my brothers and sisters of the First Nations for me to claim I am "all knowing" regarding their culture. I am not. But I have a deep respect for them and they in fact inspire me in more ways than one! If you want to learn about some of what this is about, see First Nations-Dogrib
So, I close with the lyrics from "Dance of the Wolverine"
Love and truth cannot be destroyed
Deceivers and oppressors take heed
The Light pierces through the dark cold sky
Young and old dance with the fire
Peace for all who doubt
Father Death dances with the dawn

Cheers
Dean Mason of Bleeding Raven